If you're thinking of sending a porn star a photo of your (very often, non-impressive) manhood, spare yourself the embarrassment. First of all, she doesn't want to scroll through her social media feed and see a pic of your junk, so what makes you think she'd want to receive it in a direct message on Instagram or a private snap on Snapchat? Very similar to pick-up lines, (which seldom work on any woman), so too are dick pics usually unwanted, and unappreciated. Do you think a porn star, or any woman for that matter, is going to magically become aroused because you send her a vulgar photo of your man parts? The answer is "NO". Instead of getting a pleasant response, there are a number of ways porn stars have responded to receiving unsolicited dick pics – and you won't like any of them.
Laugh At Your Penis
After you hit the send button and feel satisfied with yourself that you've sent a porn star a dick pic, you should know that she's more likely than not ridiculing you. That's right, she's pointing and laughing and sending your horribly vulgar and misguided attempt at communication to her girlfriends and they're pointing and laughing too. They're creating memes out of the picture and having a jolly ol' time.
Make Pretty Direct Dick Commentary
Believe it or not, there are websites and blogs dedicated to embarrassing men who send women unsolicited dick pics (I can't link to them here, for obvious reasons). Porn stars I know have reacted, almost impulsively at this point, to unsolicited dick pics by forwarding the photos in question to these websites where the photo is plastered up with a bunch of other unwanted dicks (literally speaking). 
Gross You Out In Return
You should know that, according to Psychology Today, while men tend to be thrilled to receive an unsolicited vulgar photo from a complete stranger, women are completely grossed out by it. Sometimes porn stars may even have a sort of "eye for an eye" response whereby she sends you a gross photo in return. Nope, not a sexy photo of herself; we're talking a photo of a 300-pound man taking a dump in the jungle, or a photo of someone projectile vomiting. You grossed her out, so it's only fair that she return the favor, right?
Report/"Tattle" On You
Don't think you're clever by sending the dick pic privately to a porn stars email or direct messaging thinking it's for her eyes only. Porn stars have re-posted the "private" dick pics in a public social media feed for people to scoff at. They've even trolled users in return. And, if you continuously harass the girl – I'm talking borderline stalking and incessant messaging – and you have family members on your social media feed, she may just have to forward it to your mom or other relative to let them know what you do in your spare time. The last option is, of course, reporting your social account so employees at major social media companies can stare at your dick before banning you.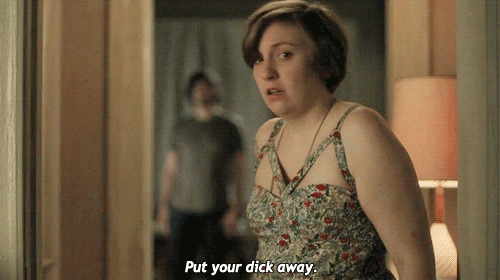 If you still can't understand why we don't like dick pics, I'll make it very simple for you. Imagine if a stranger continued sending you pics of their hairy arse. And, if you aren't into a hairy man's butt, then that's kind of disgusting right? RIGHT. That's how we feel about seeing your dicks. We are very seriously not interested.